Standards and Accessibility, a quick guide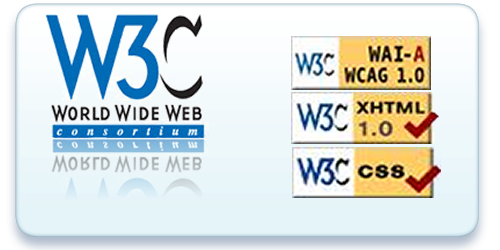 Standards exist so that there is an agreement between different browsers on how documents should be presented/rendered.
Looking forward to the future there is always a new next generation browser and adhering to standards ensures that the web pages keep their original look.
Part of that standard is writing clean mark–up and separating presentation from the content. This gives the user the control over how they want access the content.
This also makes it easier for redesigning a website and providing different versions, including a text only version in high contrasting colours.

I design websites that validate using the W3C validation tool for XHTML and CSS. This means that complying with accessibility requirements is easier and and I always try to make considerable progress to comply with the WCA Guidelines. There are fourteen guidelines but only a few are relevant for most websites. The guidelines have been assigned checkpoints and that allow the web designer to check whether or not the web site conforms to the guidelines. Each checkpoint has been assigned a priority level or 1, 2, or 3. The priority level tells the web designer how important the checkpoint is.
The Priority 1 checkpoints identify the basic steps that should be taken to ensure that most people can access the website.
I have summarised the relevant and commonly applied WCA guidelines

1. Provide text equivalents for pictures i.e. meaningful alt tags.
2. Don't rely on colour alone
3. Use mark up and style sheets
6. Ensure pages featuring new technologies transform gracefully

Guidelines 1, 2 and 3 I will always include, but sometimes it can be difficult to implement guideline 6, but don't forget the website will still validate XHTML and CSS.
Dreamweaver has tools to check validation for XHTML, which seemed very accurate although I usually use the W3C's validation tool alongside. I used the tool to check for browser compatibility and at it will highlight if there are any issues in for example Internet Explorer 6. Usually I have no presentation issues in Firefox 3.0 or Internet Explorer 7/8, which are the browsers I consistently check the pages in.
I always check each page for accessibility using Dreamweaver's tool which picks ups, non obvious things like not providing meta data for all pages, needing to provide some title's to links on some pages and sometimes things like needing to provide a text alternative to the JavaScript rollovers. Although I mostly hand code so do all rollovers in C.S.S. unless I need to do something special with them.

In Summary
Standards are important for:–
Future Proofing your website content
Accessibility across different browsers and platforms
Read and understood by Search Engines

So what about SEO I hear you say?
See my SEO guide and you will see how all these things come together.

Posted by: martin Last updated on:2010-07-28 17:32:10
Tag:- standards