Recycling
Recycling
At Tom's we take recycling seriously. For over 8 years we have built up relationships with many local businesses that will re–use and recycle nearly every different type of waste material that we collect. With some materials, for example scrap metal, this means that we are actually able to PAY YOU.
Rest assured that we you hand over your rubbish to Tom's it will end up in the right place, giving you peace of mind and reducing environmental impact.
Call Tom 0117 932 1960 or 07775 775 734
We are aiming to recycle 100% of your rubbish and working hard towards this aim.
All rubbish collected is hand sorted
We work with local businesses, meaning a lower carbon footprint reducing the effect on the environment.
Because of the care we take in sorting your rubbish we are able to get the best prices for it and pass on the savings to you.
Materials we can recycle.






Wood/green waste i.e. tree waste plants edge cuttings.
Metal e.g. copper, steel, lead, aluminium, stainless steel and car batteries
Cloth/clothes.
PVC/plastic bottles and cellophane
Old household items e.g. fridges if working sofas beds lighting tv garden furniture and much more.
Hardcore e.g. Brick concrete old tiles.
Reclaimed materials such as tiles fire places and old floor boards.
Soil. Which then can be used for topsoil or our base soil.
Paper/cardboard.
Plasterboard.
Mattresses
Glass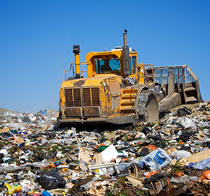 The Landfill Directive has set targets of reducing the amount of waste going to landfill and the Landfill Tax was introduced in 1996 in an attempt to reduce this. While modern landfills are well managed they can contribute to contaminated ground water in the area, pollute air quality and put the local environment under severe pressure. While sending to landfill cannot be avoided altogether we can help to reduce the amount that is sent by recycling and re–using as much as we can.
Tom will always:
Arrive on time
Avoid sending it to landfill
Recycle at least 80%
Tidy up after, leaving no mess.
How it Works :
Step 1


Free Quote
Call Tom on 0117 932 1960 or 07775 577 5734 for a free quote over the phone. Alternatively send Tom an email for a free quote.
Step 2

Upfront Rates
Exact quote provided on site once the Tom's team has seen what needs to be done – you're free to say "thanks, but no thanks"
Step 3

Recycling
Work is carried out straight away. For larger projects we may have to re–book an appointment for another time.
Step 4

80%
Responsible Disposal
You can have peace of mind knowing that Tom recycles or reuses more than 80% of everything collected.