Trailerman Services
Commercial Trailer Mobile Technicians
Trailerman will come to wherever you are, saving you time and fuel minimising your vehicles downtime.
Trailerman will ensure that the necessary work can be carried out with the minimum of inconvenience.
Trailerman offer a high standard of vehicle repairs, including the servicing, maintenance and MOTs of your commercial HGV and LGV trailers.
Who we serve
Local feet operators
Owner drivers
Nationwide logistics operators
Multinational Supply chain operators
Local authority
Emergency services
Plant, Recycling and refuse companies
Building industry
Bus & Coach operators
Types of Trailers
Curtainsiders / Tautliners
Box vans
Skeletal trailers
Tippers
Tankers
Low loaders
Draw bar
Flatbed
PSK
Tilts
Fridge trailers / reefers
Loggers
Bulk Powder
Extendables
Ejectors
Map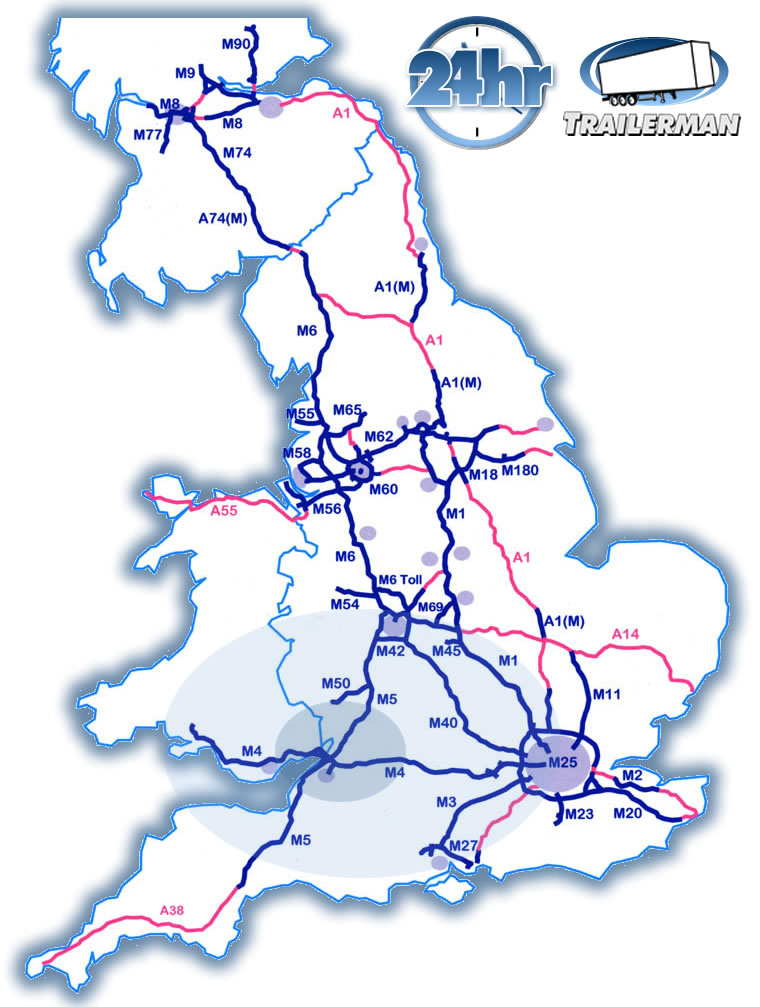 List of Services
Curtain Material Repairs
Rollover sheets,
Curtainsider,
Tilt Covers,
Sliding Roof Sheets
Floor Repairs
Keruing
Parker
Laminate and Wisadeck repairs
Steel tread plate fabrication
Floor bearer renewal
Suspension
Air bellows,
Levelling Valves
Shock Absorbers
Main Spring Eye Bushes
Wings & Spray Suppression
Replacement Wings
Flaps
Valence
Stays and brackets
Door Repairs
Shutter Doors
Cables
Adjustment
Rollers
Hinges
Drums
Barn Door Replacement
Locking Gear
Keepers and Cams
Door Seals
Electrical Lamps and wiring
Repairs, fault finding and replacement
Roof Repairs
Fibreglass
Aluminium and material roof bows
Headers and seals
Chassis
Modifications,
Gusset/Flitch Plate Welding
Chassis Corrosion plating and welding
Chassis Strengthening
Profile Cutting
Axles and Braking
Brake relines
Disc/Drum replacement
Calliper Overhaul
Hub Replacement
Valves and Piping
Load Sensors valve set-up
Modulator Valve fault finding and repair
MOT Pressure Testing
Air Tank Modifications/Renewal
Other
Warehouse/Yard Fabrications
Steps
Doors
Shutters
Cages
Posts
Ramps
Forklift forks and frames
Gates
Lighting posts
Walkways
Boundaries
We Fix Trailers from all these Manufacturers